Villa Grove, Illinois is "A GREAT PLACE TO LIVE" as the late Rosie Cler always said. Come visit and see why for yourself! We have a great small town feel, lots of good local businesses (both new and well-established), growing subdivisions with an amazing EC-12 school system, and an easy commute to both the county seat of Tuscola and everything Champaign-Urbana has to offer. We've come a long way since the railroad's inception of a town halfway between St. Louis and Chicago on the rail in 1904. We are glad to provide information and links that make our community thrive and assist residents with items that can affect their day-to-day lives. Please feel free to bring questions and ideas to us as there is always room for more creativity and improvement.
THE CITY OF VILLA GROVE IS CURRENTLY UNDER A MAYORAL DECLARATION OF EMERGENCY FOR COVID-19.
Please follow the City's Facebook page for local notices and updates at www.facebook.com/villagroveil.
4/1/2020:  I want to encourage all of our community members to please visit https://coronavirus.illinois.gov/s/ – which is the official State of Illinois site for COVID-19. There is a very large collection of information from multiple state and federal agencies. It includes a link to the Governor's daily press conference as well as current statistics and information for residents and businesses. It is being continuously updated, so remember to re-check it as needed.
Stay safe! ~Mayor Eversole-Gunter
Our buildings are currently closed to walk-ins.  Face-to-face business including receipt of utility bills will not be conducted by any employees until the emergency order is lifted, therefore you must use other acceptable methods of payment – all of which are noted on the back of the monthly postcard bills.  Please call for any other business you might need assistance with.
Online payment is strongly encouraged; it is very safe, quick and you will receive an immediate confirmation/receipt.
Simply click the "Make a Payment" button below.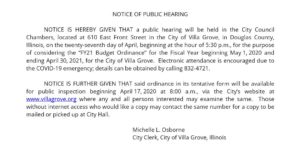 Due to the COVID-19 emergency and the need for social distancing, the meetings on Monday, April 27 will be held in the senior center dining area.  Council members will be spread throughout the room to eliminate violating the six-foot rule in effect.  However, we want to respect the public's right to voice questions under the Open Meetings Act while balancing the need to #slowthespread by strongly discouraging "in person" attendance at this time.  We would like for anyone who wants to submit a question for the Council to do so via email to city.hall@villagrove.org before 4/27 at 5:00 p.m.  We are working on possible electronic attendance forums but want a back-up method if it is not established; any email questions submitted will be read aloud during the public comments portion of the meeting.
If anyone arrives and wants to address the Council, they will be asked to stay socially distanced in another area of the building and then be brought in one-by-one to speak and asked to leave when finished (to keep the gathering strictly limited as the Council already consists of 10 members).
Thank you for your patience as we navigate the current restrictions on mobility and congregate settings.  We are hopeful that the need for local, state and federal emergency orders are lifted soon to allow everyone's lives to return to as normal as possible.
ATTENTION:  In regards to the City's Leaf Vac spring pickup schedule, we have discontinued picking up leaves as of Friday April 17.  We will post fall collection schedule dates for pickup as we get much closer to that time of the year.  As a reminder between now and then, burning of leaves is against City Ordinance; any questions can be directed to the City office at 832-4721.  Thank you!