The City of Villa Grove is considered an Aldermanic-City Form of government under the State of Illinois Statutes, which includes the following:
The Mayor serves as the chief executive officer and is elected at-large to a four year term, as is the City Clerk. In 1997 the City Treasurer position was changed from elected to appointed but the term remains the same as the Mayor and Clerk's.
Two aldermen from each of three wards are elected to serve 4-year terms, which alternate every two years.
Other offices and vacancies are filled by appointment by the Mayor, with the advice and consent of the City Council – including high school student advisory members.
The City Council, as a whole, makes decisions regarding laws and rules to be enacted and enforced by the City, with the guidance provided by reference to the Illinois State Statutes and the Illinois Municipal League.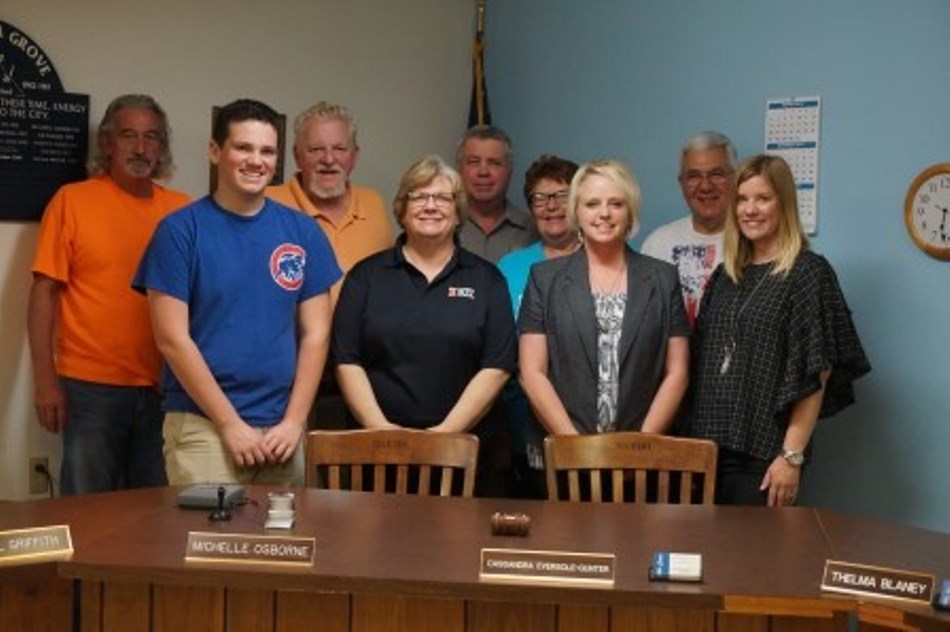 Pictured: City Council
Back row: Aldermen Bob Stipp, Darrel Griffith, Bruce Allen, Boots Blaney and Mike Leon
Front row:  Student Advisory Member Jake Gulick, City Clerk Michelle Osborne, Mayor Cassandra Eversole-Gunter, and Alderman Jennifer Cheeley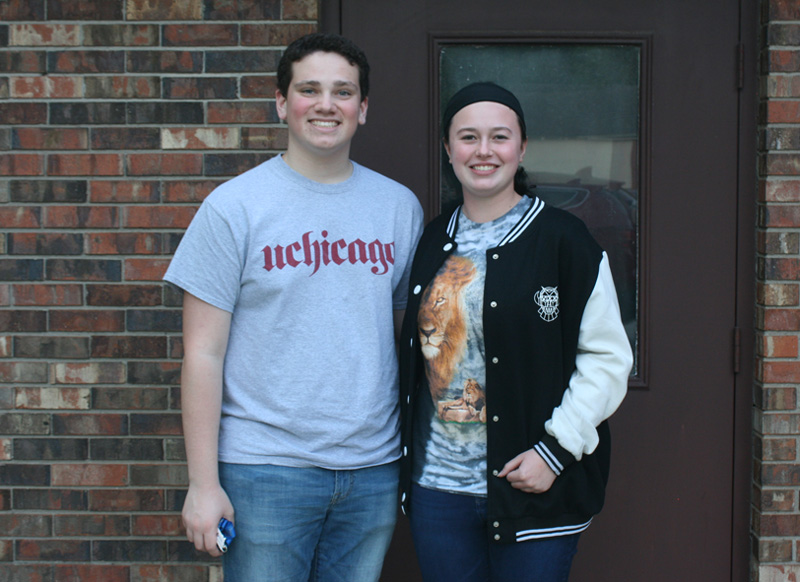 Pictured: Student Advisory Members
Jake Gulick & Maddie Shunk
Planning & Zoning Board: Chairman is Donnie Jones
Email: pz.board@villagrove.org
Board Members Also Include:  Secretary Beth Elston, Greg Harbin, John Kietzman, Joe Landeck, Jim Long, Chris Walburn, Mayor Eversole-Gunter
Park Board:  Chairman is Julie Woller
Email: park.board@villagrove.org
Board Members Also Include:  Tish Gulick, Lee Hoffman, Rebecca Hopkins, Jim Mikeworth, Erin Pangburn, Mayor Eversole-Gunter
City Council meetings are set by ordinance as the second and fourth Mondays of each month, at 6:00 p.m. Planning and Zoning meetings are on the first Wednesday of each month at 6:00 p.m. but are only convened if there is business for discussion. To see our Current Years Schedule, Click here.
How to request to be on a meeting's agenda? Call City Hall at 217-832-4721 to determine what date is available and what forms/paperwork should be provided the week before to be given to Council officials for preview in their meeting packets.
American Legal Publishing, a company from Ohio, is utilized by communities across the country for the recodification of their local ordinances.  Simply put, they review all new stand-alone ordinances to make sure there are no conflicts with any other state or local laws, and then incorporate them into the Code.  The last codification, done as the S-7 Supplement, contains all local ordinances enacted up to April 24, 2017, and can be found at:
Any new ordinances passed since April 24, 2017 (either to create new laws/items or repeal prior ones) can be found in the pdf links below.
This site is prepared and maintained by the Illinois Department of Commerce and Economic Opportunity, and provides information including demographics and resources for people interested in learning more about the City (largely based on Census results)